It was an announcement that shook the gaming industry to its very foundation. Microsoft, having been in a rough patch with their Xbox division, stepped up and bought Activision Blizzard for $69 billion . The games included under this deal are Overwatch, World of Warcraft (WoW), Call of Duty: Black Ops 4 , Diablo 3 , Starcraft 2 and more! Experts aren't too happy about one thing though – Bobby Kotick will be replaced by Phil Spencer as CEO in 2023.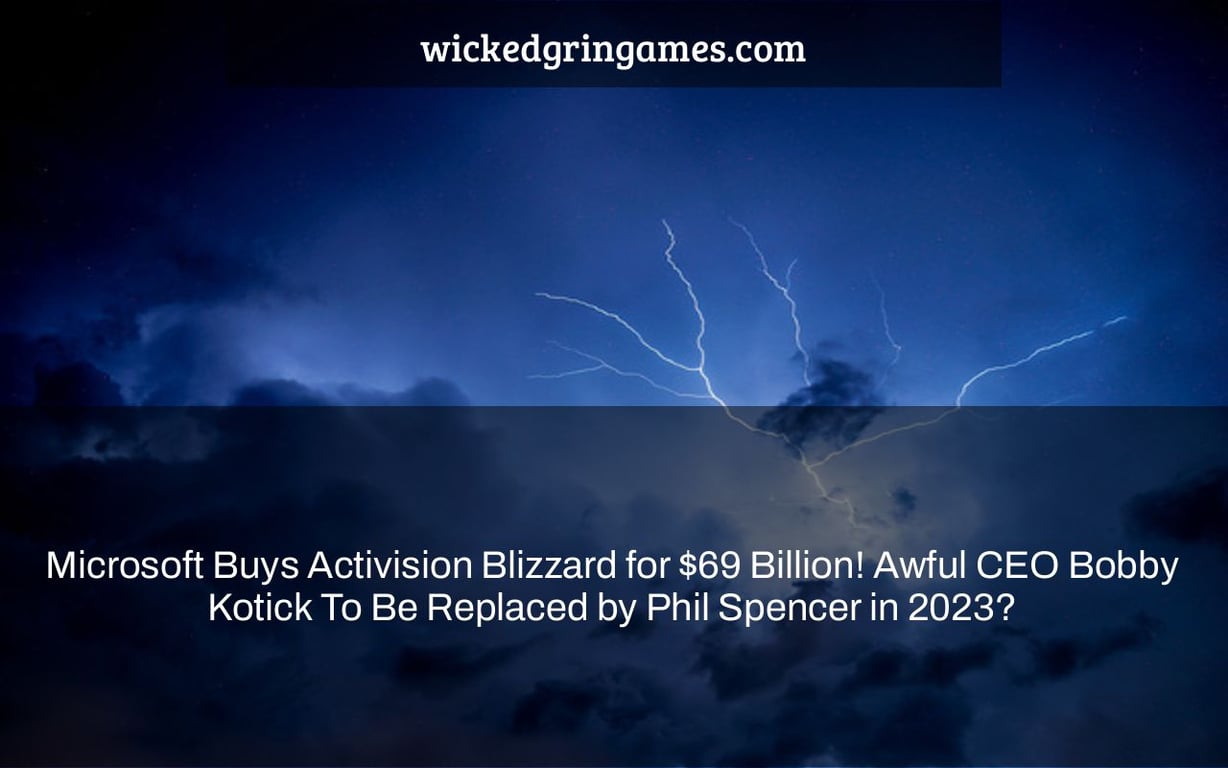 Home » Latest News » Activision Blizzard is being purchased by Microsoft for $69 billion! Phil Spencer to Replace Awful CEO Bobby Kotick in 2023?
Today, Microsoft announced it plans to buy game developer giant Activision Blizzard. This acquisition will accelerate the growth in Microsoft's gaming business across mobile, PC, console and cloud and will provide building blocks for the metaverse. Most excitingly for fans is that with an Xbox Game Pass subscription, you can soon get all past, present & future Activision Blizzard games for the same small monthly/yearly fee! 😀
Microsoft obviously expects a lot of growth in the Netflix-style monthly subscription model that Xbox Game Pass fits under, or else they wouldn't have invested so much money. Which leads us to question whether the Sega purchase rumors are also genuine. But let's go back to the Activision Blizzard news…
Microsoft will pay $95.00 per share for Activision Blizzard in an all-cash deal for $68.7 billion, including Activision Blizzard's net cash. Microsoft will overtake Tencent and Sony as the world's third-largest gaming firm by revenue if the deal is completed. "Warcraft," "Diablo," "Overwatch," "Call of Duty," "Candy Crush," "Tony Hawk," "Spyro," "Hearthstone," "Guitar Hero," "Crash Bandicoot," and "StarCraft" are among the iconic franchises from Activision, Blizzard, and King studios that will be acquired, as well as global eSports activities through Major League Gaming. The corporation employs almost 10,000 people in studios all around the world.
Gaming is currently the biggest and fastest-growing type of entertainment, with three billion people actively playing games today, propelled by a new generation versed in the delights of interactive entertainment.
"Upon closing, we will provide as many Activision Blizzard games as we can inside Xbox Game Pass and PC Game Pass, including new titles and games from Activision Blizzard's tremendous portfolio," Microsoft said.
The bad news is that Activision Blizzard CEO Bobby Kotick, who "allegedly" purposefully ignored female sexual assault allegations against his senior male staff for 30 years, will stay on for the rest of this year and next year until the company transition is completed, but Activision Blizzard's own employees and gaming fans around the world are hoping he will be fired as soon as possible in 2023. The following comment from Xbox's Phil Spencer seems to indicate that he will take over as CEO in 2023. Take a look…
Bobby Kotick will continue to lead Activision Blizzard as CEO, and he and his team will continue to concentrate on strengthening the company's culture and accelerating business development. The Activision Blizzard company will report to Phil Spencer, Microsoft Gaming's CEO, after the transaction is completed.
Following that are some quotes from everyone involved to demonstrate how ecstatic they are.
"Gaming is the most dynamic and interesting area in entertainment today across all platforms," said Satya Nadella, chairman and CEO of Microsoft. "It will play a vital role in the development of metaverse platforms." "To usher in a new age of gaming, we're investing heavily in world-class content, community, and the cloud to usher in a new era of gaming that prioritizes players and creators and makes gaming safe, inclusive, and accessible to everyone."
"Players all across the world enjoy Activision Blizzard games, and we think the creative teams are working on their finest work yet," stated Phil Spencer, Microsoft Gaming's CEO. "Together, we will create a future in which people can play their favorite games almost everywhere."
"Our extraordinarily skilled teams have developed some of the most popular games for for over 30 years," stated Activision Blizzard CEO Bobby Kotick. "The combination of Activision Blizzard's world-class talent and incredible franchises, as well as Microsoft's technology, distribution, talent access, ambitious vision, and shared dedication to gaming and inclusivity, will help assure our sustained success in an increasingly competitive sector."
Mobile gaming is the most popular, with approximately 95 percent of all gamers worldwide using their phones to play games. Microsoft and Activision Blizzard will enable gamers to experience the most immersive titles, such as "Halo" and "Warcraft," almost wherever they desire thanks to excellent people and outstanding technology. Activision Blizzard's mobile business, with games like "Candy Crush," provides a substantial presence and potential for Microsoft in this fast-growing area.
With plans to introduce Activision Blizzard titles into Game Pass, which has hit a new milestone of over 25 million members, the purchase significantly strengthens Microsoft's Game Pass catalog. This purchase will provide Game Pass one of the most engaging and diversified portfolios of gaming content in the business, thanks to Activision Blizzard's over 400 million monthly active gamers in 190 countries and three billion-dollar franchises. Microsoft will have 30 internal game development studios, as well as extra publishing and esports production capabilities, when the deal is completed.
Disclaimer: The purchase agreement is not yet finalized, although it is anticipated to be completed. The deal is subject to standard closing conditions, including regulatory clearance and shareholder approval from Activision Blizzard. The transaction is planned to completion in fiscal year 2023 and will be non-GAAP earnings per share accretive at that time. Both Microsoft and Activision Blizzard's boards of directors have given their approval to the deal.
Update: Microsoft has issued an additional statement indicating that the corporate culture issues at Activision Blizzard are being addressed immediately. To paraphrase:
"As a business, Microsoft is dedicated to promoting diversity and inclusion in all aspects of gaming, for both workers and gamers." Individual studio cultures are very important to us. We also think that creative achievement and liberty are inextricably linked to treating each individual with decency and respect. This is a promise that we hold all teams and leaders to. We're excited to bring our proactive inclusion culture to all of Activision Blizzard's fantastic teams.
There is no more exciting place for enjoyment and interaction than video games throughout the globe. And there's never been a better moment to start playing than now. We look forward to welcome all of our friends from Activision Blizzard to Microsoft Gaming as we spread the excitement and community of gaming to everyone."
Wow, wow, wow, wow, wow, wow, wow I never imagined such a large takeover would occur. Those are some fantastic Activision Blizzard game franchises that are becoming "free" with Xbox Game Pass! I'm overjoyed that I no longer have to pay for them and can just test them out as part of Xbox Game Pass, the finest offer in gaming. Now all Microsoft has to do is clean house by removing the present scumbag CEO and changing the terrible business culture, and Activision Blizzard studios will have a great future at Xbox. I believe this was the most unexpected, but most welcome, thing that could have occurred for those organizing walkouts and strikes at the studio over the last year. Congrats.
Call of Duty: Vanguard, Candy Crush, Crash Bandicoot N. Sane Trilogy, Diablo IV, Guitar Hero Live, Hearthstone: Heroes of Warcraft, Overwatch 2, Spyro the Dragon Trilogy Remastered, Starcraft: Remastered, Tony Hawk's Pro Skater 1 + 2, World of Warcraft, World of Warcraft: Remastered, World of Warcraft: Remastered, World of Warcraft: Remastered, World of Warcraft: Remastered, World of Warcraft:
Mac News, Mobile News, News, Nintendo Switch News, PC News, PS4 News, PS5 News, Videos, Xbox One News, Xbox Series X News, Xbox 360 News, Xbox One News, Xbox 360 News, Xbox 360 News, Xbox 360 News, Xbox 360 News, Xbox 360 News, Xbox 360 News, Xbox 360 News, Xbox 360 News, Xbox 360 News,
Author information
By : . He loved gaming from the moment he got a Nintendo with Super Mario Bros. on his 8th birthday. Learn more about him here and connect with him on Twitter, Facebook and at Google+.
More information may be found at